The Kit
We at DYEDbro feel the pain from all the Australians and their struggle after all the wildfires this past couple of months.
This is why we decided to launch the "Pray for Straya" frame protector.
With this special edition we want to raise funds to send to organizations and animal shelters across the country and help all those animals that are now homeless.
We are from Spain and we weren't sure which would be the best options to make the biggest impact with our donations so we teamed up with three of the best Australian mountain bikers to choose them. 
David Mcmillan, Troy Bronsnan and multiple world champion Sam Hill have helped us choose these organizations. W
e will be donating 50% of the profits from all the "Pray for Straya" frame protector to these 3 organizations:
Designed by our good friend Victor Brousseaud and available in black or white.
Make difference with your purchase.
Included
x1

Top tube protector

x2

Extra pieces for larger frames

x1

Down tube protector - Gloss kits come with Gloss Down tube section, Matt kits come with Matt Down tube section.

x2

Chainstay protectors

x2

Seatstay protectors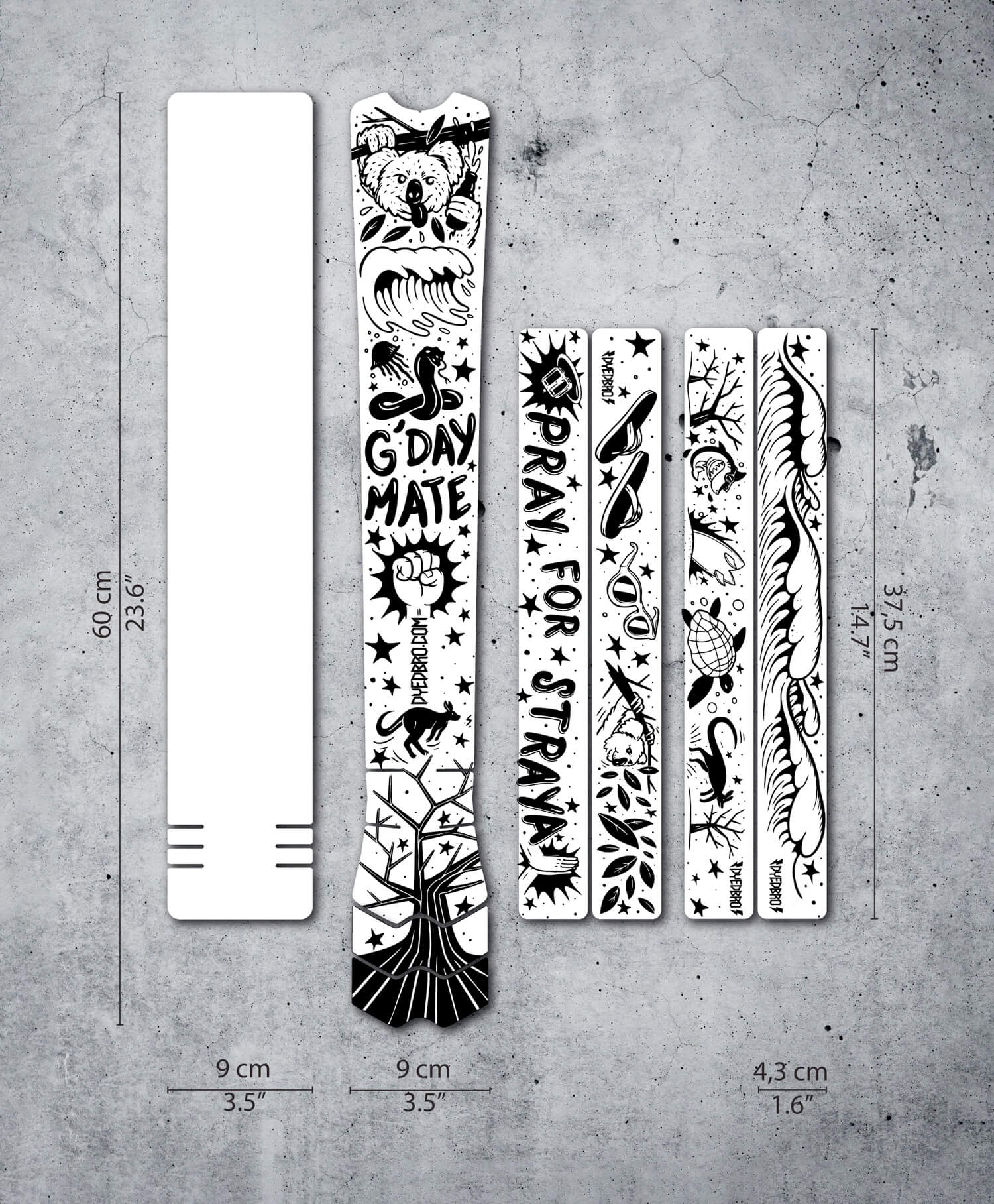 Installation
Stumped on how to apply your new DYEDBRO kit? Follow our step-by-step installation video to help you achieve the perfect fit to your bike.
WHY DYEDBRO?
MATERIAL STRENGTH

DYEDBRO kits use 300µm/0.3mm PVC - optimised to resist impact and tear damage. It's flexible and easy to install while offering excellent protection.

ADHESIVES

Easy to fit, we use high contact adhesive to ensure your frame protection stays on no matter how much you ride.

FADE RESISTANT

No one wants color fade so we print our kits ourselves with non fading inks meaning your kit looks as good as it did the day you installed it - always.

DRIFT FREE

No matter how or what you ride, our kits will allow you to push harder and protect your investment.